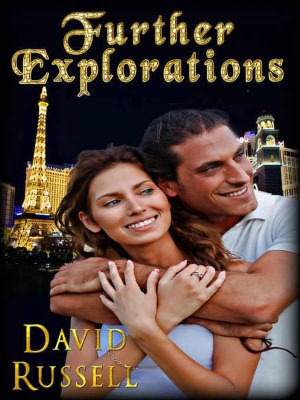 Genre:
Contemporary Romance
Summary:
Energised by their lovely liberating experience, Janice and Cedric are determined to 'spread their wings' and take the world by storm, a two-person conspiracy. They head off physically in different directions, but remain in constant depth communication electronically, ever comparing notes, monitoring each other's minds and experiences for a depth of mutual understanding. They may meet again fully equipped with a great depth of self-knowledge, and a knowledge of each other's depth. They negotiate giddy peaks of high finance; Janice even does into 'dreamscape', making a pact with the devil. Further delights of sensuality are explored by both, with exotic partners; the depths and shallows of life are all embraced?
Excerpt:
They beamed at each other, sizing up their physiques again, comparing their respective performances which had led up to that climax. Then Janice breathily broke the silence. "You were an astral rocket, surging, grounding, resurging."
"And you the booster supreme."
After a final hug, they wistfully shrugged, along with smiles and suspicions of tears. "We've both got our planes to catch, darling…we're all wired up." They turned their backs on each other going down their separate lanes.
Janice and Cedric's bittersweet parting, executed with watertight composure, froze that moment of perfection. Their state-of-the-art arrangements, so efficient in sustaining long-term contact were so effortlessly executed—miraculously, none of the hitches either of them experienced with their other contacts—that they simply had to have been exquisitely premeditated, but all the more because, regarding functioning in the immediate present, they were both prone to fumble and stutter.
Yet, there was a sense of permanence in that kaleidoscope world of fleeting acquaintances. Shattering glasses always sharpens, enriches the vision. Closet pyromania fantasy makes every dreamer dynamic—visions of the inferno, crashing of all solid architecture, but with the stench of charred flesh blanked off. Such an abundance of good looks and vibrant expressions passing by on the streets; it felt that any one of them had destructive potential, mighty cataracts at close quarters. The diffusion of that potential sustains the world's equilibrium, global spark potential.
As they lived so exclusively for the depths, the buoyant currents of life had forced them up to the surface, to embrace the shallows, while sustaining their ability to forsake them, in perfect control of their natural buoyancy. That was the precarious stability engendered by their conjoint imbalance, melding of premeditation and blind panic, undermining and invigorating—generating a zest for life through the threat of its loss. But privately, they both missed the comfort of a little warming clumsiness. Living without it was like negotiating ungritted ice on a road—so easy to be injured if the path is too smooth, and the ugly, grinding monster can be a saviour.
If it was a matter of being nourished by the celebrity images, there was some potential there of Hugh Grant meeting Renée Zellweger—weights adjusted just right without painful drab dieting, though they were both thorough in burning away the calories. Perhaps next time, they could let go a little, though each of them always looked naturally spruce and together. Their negatives were revealing full images in the darkroom, the changing room, the transformation room, under the common denominator of its red light—great to contemplate the universal monochrome, fabulous the flaunting, waving of the leanness to reach out for their ideals.
Buy this story on Devine Destinies. Also check out David Russell's Goodreads page to see more of his work.